Description
AVN80X IVS IP Camera
It's NOT just an IP camera only! It changes your life completely!
Easy Home Surveillance - Push Video , 5-sec Event Video Call
YouTube Video
Video for AVTECH IP camera.

The youtube movie clip is only 31 seconds in duration, emphasizing the "PUSH VIDEO" of AVN80X.
AVN80X – Emphasizing "Push Video"

It's NOT just an IP Camera Only!
The Best Remote Software in the world compatible with iPhone, Android /
Nokia Phone, iPad, Android Tablet, MAC/Windows PC.
People Care

Do you have iPhone or Android phone?

Do you have iPhone, iPad or Android Mobile Device?
AVN80X will be your never sleep housekeeper.
It will immediately deliver the event video to you (Push Video) to let you know what just happened.
Demo Link: http://av80.dvrdns.org:82
Username : demo
Password : demo
Features:
Easy network setup with your laptop / PC, and iPhone / iPad
Megapixel live MOS sensor with HDTV 720p quality, allowing users to notice minor details more easily
Micro SD card support for video storage
Push Video supported to send an event notification to your iPhone and Android phones immediately once the specified event type is triggered, and play video recording once you confirm the receipt.
White LED built-in to illuminate the scene manually, scheduled by a timer, or triggered by a motion, an alarm, or an audio event
External alarm I/O devices connection
Microphone & speaker built-in for two-way audio transmission
Complete Remote Surveillance Compatibility
2 major computer operating systems, Microsoft Windows & Apple Mac
5 commonly-used web browsers, Internet Explorer, Mozilla Firefox, Safari, Google Chrome and Opera
7 mobile platforms, iPad, iPod, iPhone, BlackBerry, Symbian, Windows Mobile & Android
For multiple device control, our self-developed program, Video Viewer, is provided for free for Windows-based and Mac-based operating systems.
Specifications:
| | |
| --- | --- |
| Network | |
| Network Compression | H.264 / MPEG4 / MJPEG |
| Multiple Video Streaming(Encode Modes, IPS, Resolution) | 3 (H.264, MJPEG, MPEG4) |
| LAN Port | YES |
| LAN Speed | 10/100 Based-T Ethernet |
| Supported Protocols | DDNS, PPPoE, DHCP, NTP, SNTP, TCP/IP, ICMP, SMTP, FTP, HTTP, RTP, RTSP, UPnP |
| Frame Rate | NTSC:30, PAL:25 |
| Number of Online Users | 10 |
| Security | Multiple user access levels with password |
| Web management | Web browsers, such as Internet Explorer, Mozilla Firefox, Google Chrome, Safari & Opera for single device access, or Free CMS software, Video Viewer, for up to 16 network cameras control simultaneously |
| Camera | |
| Image Sensor | 1/3" Live MOS image sensor |
| Video Resolution | SXGA, SXVGA, 720P, VGA, QVGA |
| Min Illumination | 0.1 Lux / F1.5, 0 Lux (LED ON) |
| Shutter Speed | 1 / 60 (1/50) to 1 / 100,000 sec. |
| S/N Ratio | More than 48dB (AGC off) |
| Lens | f3.8mm / F1.5 |
| Viewing Angle | 75 Degree |
| White LED | YES (1W, 10 meters) |
| White Balance | ATW |
| AGC | Auto |
| IRIS Mode | AES |
| PIR Sensor | Detection Range 76deg. wide angle with 5m long distance at 2m height (under 25deg.C) |
| Micro SD Card Slot | YES |
| External Alarm I/O | YES |
| Microphone | YES |
| Speaker | YES |
| Power Source (+-10%) | 5V / 2A |
| Operating Temperature | -0 C ~40 C Degree |
| Others | |
| Mobile Surveillance | iPad, iPod, iPhone, BlackBerry, Windows Mobile, Symbian & Android |
| Push Notification | YES |
| Audio Detection | YES |
| RTC (real-time clock) | YES |
| Motion Detection | YES |
| Digital Pan / Tilt / Zoom | YES |
| Event Notification | FTP / Email |
| Minimum Web Browsing Requirements | Pentium 4 CPU 1.3 GHz or higher, or equivalent AMD |
| | 256 MB RAM |
| | AGP graphics card, Direct Draw, 32MB RAM |
| | Windows 7, Vista & XP, DirectX 9.0 or later |
| | Internet Explorer 7.x or later |
(Designs and specifications are subject to change without notice.)
Application Scenarios
Home
Company
Store / Warehouse
Car
Construction Site
Other Applications
Impressive Features
H.264
Compressive
SD Slot
(micro SD)
Human
Detection
Sensor
Alarm I/O
Interface
White
LED
Audio
Detection
Push Video
Adjustable
Lens
Multi-
Platform
Easy
Setup
6 Must-Buy Reasons
1. Image Comparison

Daytime Image
Night time with White LED
During day time surveillance, compared with other brand cameras, AVTECH's IP camera is embedded with a Live MOS image sensor and Uniphier DSP from famous Japanese component supplier. Therefore, the image quality is relatively better. During night time surveillance, AVTECH's IP camera is equipped with high power white LED and big aperture (F1.5) lens to illuminate the scene to provide you with colorful and clear images. The nighttime performance has shown advantage compared with other competitors.
2. Powerful Remote Surveillance on Multiple Mobile Platforms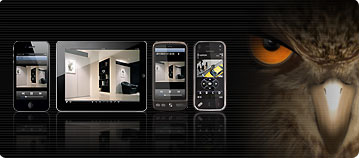 Mobile surveillance via many popular mobile platforms, such as iPhone¢ç, iPad¢ç, Android¢â and Nokia¢ç, is supported to fulfill various users' demands. Our self-developed mobile solution, "EagleEyes", can be installed for surveillance, anywhere & anytime on your mobile phone. Please visit: EagleEyes website for more details.
3. PUSH VIDEO, Get event video call in 5 sec. for human detection or alarm event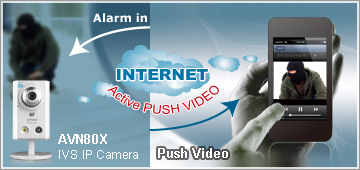 When a self-defined event occurs, such as human or alarm, AVN80X will immediately make a video call to your iPad, iPhone or Android phone which will then activate our mobile surveillance software, EagleEyes, automatically for remote access.
4. External I/O Devices Support: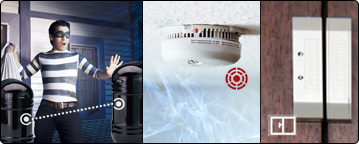 You can connect all alarm I/O devices (such as magnetic contacts, infrared twin beam sensors, and smoke detectors) to AVN80X for 5-Sec Event Video Call and get real-time mobile surveillance.
For those technological product fans, it is assured that AVN80X can be in operation via external control devices.
5. Digital PTZ:

To see more details, Digital PTZ allows users to move up / down and left / to after zoom in on an object.
6. LED Status Indicators: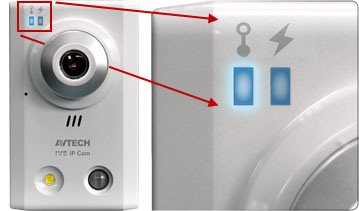 A LED status indicator is designed to show the current Internet and LAN connection, which enables users to check network connection status with ease.



LAN connection status


Internet connection status
AVN80X Wireless Setup
Video Demo
AVTECH will continuously release interesting video demo for AVN80X on this website and YouTube. Click the video demo below and get to know more about this cute and useful network camera - We care what you care!
AVN80X Full Function Demo
AVN80X Push Video Function
AVN80X Zoom In & Zoom Out Function
AVN80X Walkie & Talkie Function
AVN80X Event Playback Function
Demo Site:
The following demo sites are available for your trial. You might access with your smart phone (EagleEyes) or PC (web browser) to experience the amazingness of AVN80X.
Reviews
(UK) Computer Active
Once set up, it will automatically record when it detects motion and send an alert through 'push' notifications and display them to the user
(US) NoEzLife Blog
Video Comparison (1280x1024 vs. 720p vs. 320x240)*****
Android Experience ****
iPAD Experience****
(AU) MacTalk
(Video)
Excellent video quality and the push iPhone notifications work a treat, instantly playing back the motion alert.
(CA) Network Security And More!
Push notifications are an important feature of this camera.
Other Related Documentations:
AVN80X Must buy Reason
AVN80X Product Brochure
AVN80X Quick Setup with iPhone
AVN80X Network Setup
Product Review - (UK) GULLY
Product Review - (UK) Secure Systems
Product Review - (UK) Computer Active
Product Review - (US) NoEzLife Blog
Product Review - (AU) MacTalk
Product Review - (AU) MacTalk(Video)
Product Review - (CA) my reviews
Product Review - (CA) Network Security And More!
Product Review - (TW) iPhone4.tw
Product Review - (TW)
Product Review - (TW)
Product Review - (TW)
Product Review - (TW)
Video Demo - AVN80X IVS IP Camera Review
AVN80X Demo Site - 1 (Username/Password: guest, Port: 80)
AVN80X Demo Site - 2 (Username/Password: guest, Port: 80)
Scroll